FACILITIES
Our five facilities achieve integrated production systems for a wide range of business sectors.
TAGAMI EX is actively engaged in the development of new technology for social infrastructure development and environmental preservation and provides a variety of products to a wide range of business sectors.
The company's five plants are staffed by professionals who are experts in their area of technical specialty, such as sheet metal welding, machining, and assembly. These plants maintain close communication and flexibly collaborate to achieve an integrated production system from product development to manufacturing and shipping.
Headquarters Plant
Sheet metal work, machining, assembly
FAB Techno Center
Assembly
Terai Plant
Large-scale machining
Headquarters West Plant
Large-scale sheet metal processing
Kosugi Plant
Die machining
Headquarters Plant
Sheet metal work, machining, assembly
Major Pieces of Equipment Headquarters No.1 Plant
| Machine Name | Model | Manufacturer | Specifications | Number of Units |
| --- | --- | --- | --- | --- |
| 5-Face Machining Center | MVR25-APC(2)/ATC(80) | Mitsubishi Heavy Industries | 4200× 2050×1650 | 1 |
| 5-Face Machining Center | MCR-A5C/ATC (72 ) | OKUMA | 4200× 2550×1450 | 1 |
| Natural Push-Pull Painting Booth & Cleaning Equipment | | Parker Engineering | Inside dimensions W4800×L8700×H5000 | 1 |
| Flushing Equipment with Automatic Measurement | UMFC55T | EATON | 4μm | 1 |
| 2-Liquid Mixer | ACW1200 | ASAHI SUNAC | - | 1 |
| Layout Machine | FK-2000 | Fujioka Industrial | 5500× 1500×2000 | 1 |
| FARO ARM | Faro Prime Arm (6ft) | FARO | (1.8M) 6-axis | 1 |
| Laser Tracker | Vantage | FARO | - | 1 |
| Ultrasonic Flaw Detector | UI-S7/UI-25 | RYODEN SHONAN ELECTRONICS | - | 6 |
| Phased Array Ultrasonic Flaw Detector | PhasorXS | GE | - | 1 |
| Handy Probe 3D-Coordinate Measuring Machine | XM-1200 | KEYENCE | Max. movable range 718mm, Repeat accuracy 士3μm | 1 |
| Ceiling Crane | | Nippon Hoist | 2.8t to 30t | 8 |
Major Pieces of Equipment Headquarters No.2 Plant
| Machine Name | Model | Manufacturer | Specifications | Number of Units |
| --- | --- | --- | --- | --- |
| Ceiling Suspended 2-Head Welding Robot | NX100 | KOMATSU | Both End Support Positioner | 1 |
| Ceiling Suspended 2-Head Welding Robot | C3 | KOMATSU | Both End Support Positioner | 1 |
| Ground Traveling 2-Head Welding Robot | C3 | KOMATSU | Both End Support Positioner | 1 |
| Ceiling Suspended Welding Robot | C3 | KOMATSU | Both End Support Positioner | 1 |
| Truck Frame Internal Welder | - | LINEWORKS | Both End Support Positioner | 1 |
| Gate Type Straightening Press | - | - | Pressing Capacity 3000kN | 1 |
| Single End Support 1-Axis Positioner | - | - | Loading Capacity 2t | 2 |
| Single End Support 1-Spindle Positioner | - | - | Loading Capacity 2t | 1 |
| 2-Spindle Table Positioner | POK-20 | Matsumoto Kikai | Loading Capacity 2t | 1 |
| Both End Support 1-Spindle Circle Positioner | - | - | Loading Capacity 2t | 1 |
| Both End Support 1-Spindle Positioner | - | - | Loading Capacity 2t | 1 |
| Ceiling Crane | - | Nippon Hoist | 1.5 to 20t | 11 |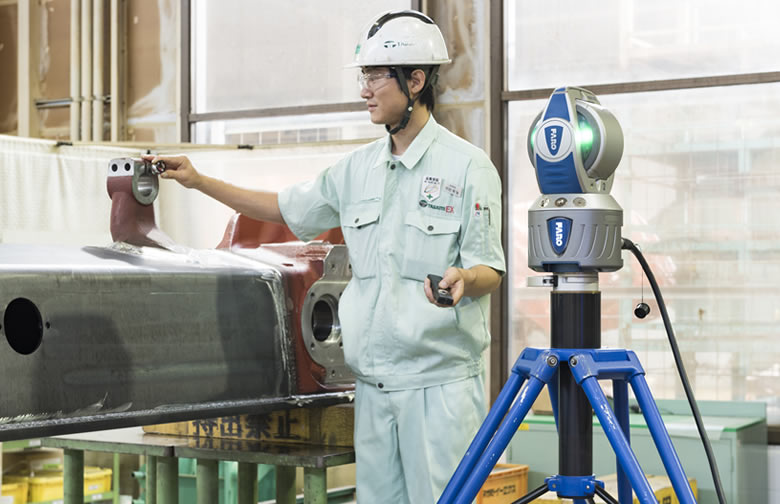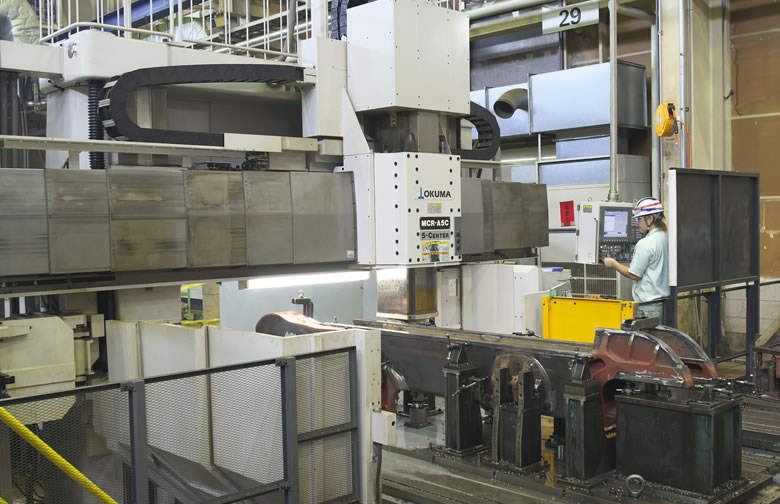 FAB Techno Center
Assembly
Major Pieces of Equipment
| Machine Name | Model | Manufacturer | Specifications | Number of Units |
| --- | --- | --- | --- | --- |
| Ceiling Crane | - | Nippon Hoist | 2.8t to 30t | 22 |
| Dynamic Balancing Machine | DBM-HDJ-400 | Shimadzu Corporation | 400kgφ1250×1800 | 1 |
| Push-Pull Wet Painting Booth | - | Parker Engineering | Inside dimensions W4800×L1500×H5000 | 2 |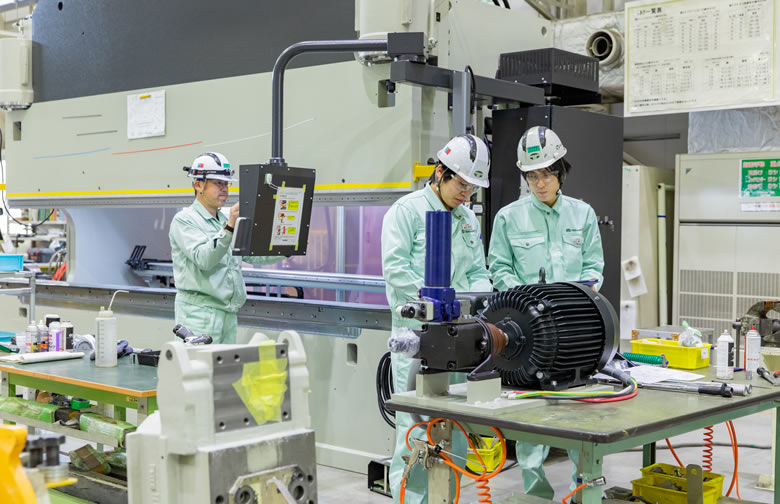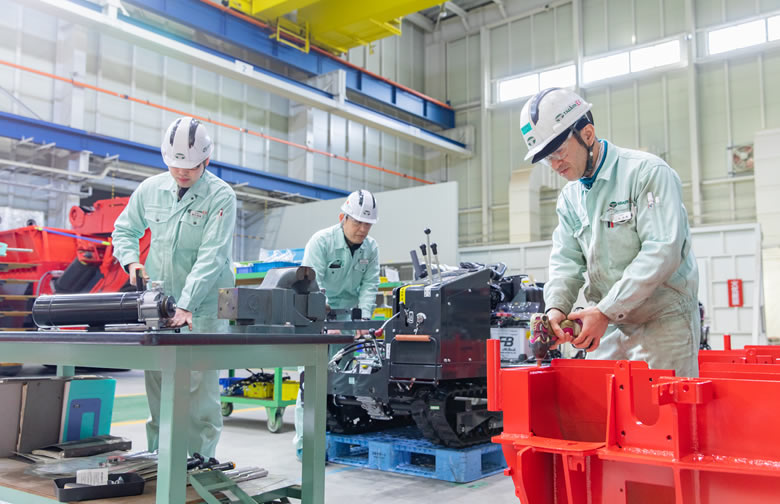 Terai Plant
Large-scale machining
Major Pieces of Equipment
| Machine Name | Model | Manufacturer | Specifications | Number of Units |
| --- | --- | --- | --- | --- |
| 5-Face Machining Center | MPC-3150/APC (2) /ATC (90) | Toshiba Machine | 6000×3100×2450 | 1 |
| 5-Face Machining Center | MPC-4165B/ATC (90) | Toshiba Machine | 7500× 4100×3750 | 1 |
| 5-Face Machining Center | MPC-4580B/APC (2) /ATC (180) | Toshiba Machine | 9000× 4500×4500 | 1 |
| 5-Face Machining Center | MVR30-APC (2) /ATC (80) | Mitsubishi Heavy Industries | 4200× 2550×1650 | 1 |
| NC Horizontal Boring Machine | BF130B/ATC(60) | Toshiba Machine | 6000× 2500×1500 | 1 |
| NC Horizontal Boring Machine | BTD-110-R16/APC (2) /ATC (90) | Toshiba Machine | 2000× 1500×1450 | 1 |
| NC Horizontal Boring Machine | BTD-13F-R22/APC (2) /ATC (90) | Toshiba Machine | 3000× 2300×1600 | 1 |
| Horizontal Machining Center | BMC-100/ATC (120) /APC (6) | Toshiba Machine | 2000× 1250×1000 | 1 |
| Horizontal Machining Center | BMC80E/APC (2 ) /ATC (60) | Toshiba Machine | 1250× 1000×900 | 1 |
| Horizontal Machining Center | MCD1816/ATC(60) | Makino Milling Machine | 1800×1600×1300 | 1 |
| Horizontal Machining Center | M-H100C/APC(2)/ATC(80) | Mitsubishi Heavy Industries | 1550× 1000×1000 | 1 |
| Horizontal Machining Center | FH10OS/ATC (120) /APC (6) | JTEKT | 1600× 1400×1150 | 1 |
| Vertical Turning Center | TMD-16/APC (2) /ATC (24)/Table φ1600 | Toshiba Machine | φ2000 Z:1350 | 1 |
| Vertical Machining Center | VM C85/APC (2) /ATC (32) | Toshiba Machine | 2000× 850×700 | 1 |
| NC Planomiller | NCPMB-25-60/ATC (24) | Oigo Works | 6200× 2550×2000 | 1 |
| Open Planer | F01212-14 | Fuji Seisakusyo | 4200× 1200×1200 | 1 |
| Open Planer | - | Kinoshita | 5000× 2050×1600 | 1 |
| Horizontal Boring Machine | BT-1OB | Toshiba Machine | 2250× 1400×710 | 1 |
| Horizontal Boring Machine | SB-11OA | Shinada Tekko | 2000× 1200×700 | 1 |
| Radial Drilling Machine | RE2 to RE3 | Ooya Machinery Works | L1450 to 2500 | 1 |
| Vertical Milling Machine | 1FD-V7G | IKEDA-KOKI | 1800× 650×700 | 1 |
| CNC Coordinate Measuring Machine | Crysta-Apex C/ 122010 | MITUTOYO | 1205× 2005×1005 | 1 |
| Thermostatic Chamber | - | - | 2.8t Crane | 1 |
| Floor Mounted Robot | RAL1O/6GM(C4) | KOMATSU | Loading Capacity 1.5t/1.0t | 1 |
| Floor Mounted Robot | RAL06/CXX | KOMATSU | Loading Capacity 1.2t | 1 |
| Floor Mounted Robot | RAL10/CXX | KOMATSU | Loading Capacity 1.2t | 1 |
| Shot Blasting Machine | STA-6A | SINTOKOGIO | φ1700×650×1000kg | 1 |
| Painting Booth | PSB-300H | Parker Engineering | W3000×H2000 | 1 |
| Painting Booth | - | Parker Engineering | W3100× H2050 | 1 |
| 2-Liquid Mixer | ACW1200 | ASAHI SUNAC | | 1 |
| Drying Oven | | - | Drying temperature 65℃ | - |
| Ceiling Crane | - | HOKUTO | 2.8t to 30t | 14 |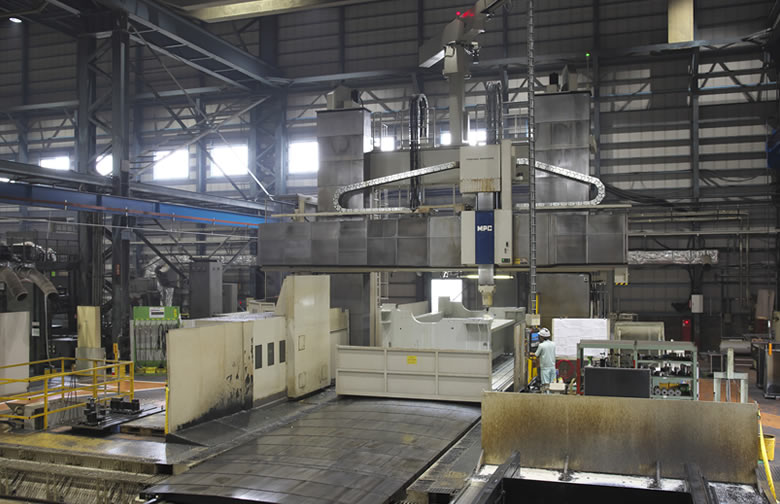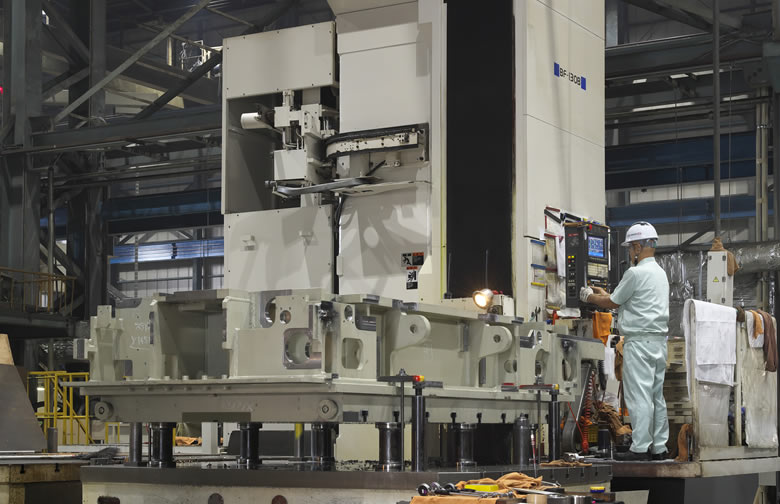 Headquarters West Plant
Large-scale sheet metal processing
Major Pieces of Equipment West No.1 Plant
| Machine Name | Model | Manufacturer | Specifications | Number of Units |
| --- | --- | --- | --- | --- |
| Ceiling Suspended Welding Robot | RAL06/C4 | KOMATSU | Load capacity 7t/Single end support positioner | 1 |
| Ground Traveling Robot | RAL06/KXRC | KOMATSU | Load capacity 5t/Single end support positioner | 1 |
| Ground Traveling Robot | RAL03 built-in type/C3 | KOMATSU | Load capacity 6t/Single end support positioner | 1 |
| Ground Traveling Robot | RAL06/C4 | KOMATSU | Load capacity 5t/Single end support positioner | 1 |
| Ground Traveling Robot | RAL03 built-in type/C3 | KOMATSU | Load capacity 5t/One side support positioner | 1 |
| Ceiling Suspended Welding Robot | RAL06/CXX | KOMATSU | Load capacity 2t/One side support positioner | 1 |
| Single End Support 3-Axis Positioner | - | In-house design | Load Capacity 10t | 1 |
| Single End Support 3-Axis Positioner | - | In-house design | Loading Capacity 5t | 1 |
| Single End Support 3-Axis Positioner | - | Komatsu Engineering | Loading Capacity 5t | 1 |
| Single End Support 3-Axis Positioner | - | Matsumoto Kikai | Loading Capacity 5t | 1 |
| Double Arm 3-Axis Positioner | SKETTE5000 | LINEWORKS | Load Capacity 5t | 1 |
| Double Arm 3-Axis Positioner | NSKETTE3500S | LINEWORKS | Load Capacity 3.5t | 1 |
| 2-Axis Table Positioner | POK20 | Matsumoto Kikai | Load Capacity 2t | 2 |
| Guided Battery-Operated Cart | RD-030 | Sano Sharyo Seisakusho | Loading Capacity 30t | 1 |
| Shot Blasting Machine | DF-804 | NICCHU | Table size φ5000 Possible Weight 30t, Height 2700 | 1 |
| Open Top Natural Push-Pull Wet Painting Booth | - | Parker Engineering | Inside dimensions W4800×L8700×H5000 | 1 |
| 2-Liquid Mixer | ACW1200 | ASAHI SUNAC | | 1 |
| Indirectly Heated Drying Oven | - | Parker Engineering | Drying temperature 70℃ to 110℃ | 1 |
| NC Horizontal Boring Machine | BTD130H-R22/APC(2)/ATC(90) | Toshiba Machine | 3000×2300×1600 | 1 |
| NC Horizontal Boring Machine | BTH130-R18/APC(2)/ATC(120) | Toshiba Machine | 2500×2500×1500 | 1 |
| Ceiling Crane | - | HOKUTO | 2.8t to 60t | 22 |
Major Pieces of Equipment West No.2 Plant
| Machine Name | Model | Manufacturer | Specifications | Number of Units |
| --- | --- | --- | --- | --- |
| Ground Traveling Robot | RAL06/ C 3 | KOMATSU | Load capacity 5t/Both Ends Support Positioner | 1 |
| Ground Traveling Robot | RAL06/ C 3 | KOMATSU | Load capacity 15t/Single End Support Positioner | 1 |
| Shot Blasting Machine | FTL-380 | DAICHU | φ3000×2000: 3t | 1 |
| WA BOOM Straightening Measurement Device | - | KOMATSU | Laser Measurement (4 locations) | 1 |
| WA BOOM Push Press-Fitting Machine | - | RIKEN KIKI | Stroke 300mm×2 | 1 |
| Push-Pull Wet Painting Booth Indirectly Heated Drying Oven + Conveyor | - | Parker Engineering | Electrostatic Spray Painting | 1 |
| 2-Liquid Mixer | ACW1200 | ASAHI SUNAC | | 2 |
| Horizontal 2-Axis Opposed Machining Center | FMC80/530H F-2T/ ATC(60×2) | Fujiseiki Machine Works | 5300×1600×750 | 1 |
| Ceiling Crane | - | HOKUTO | 2.8t to 10t | 11 |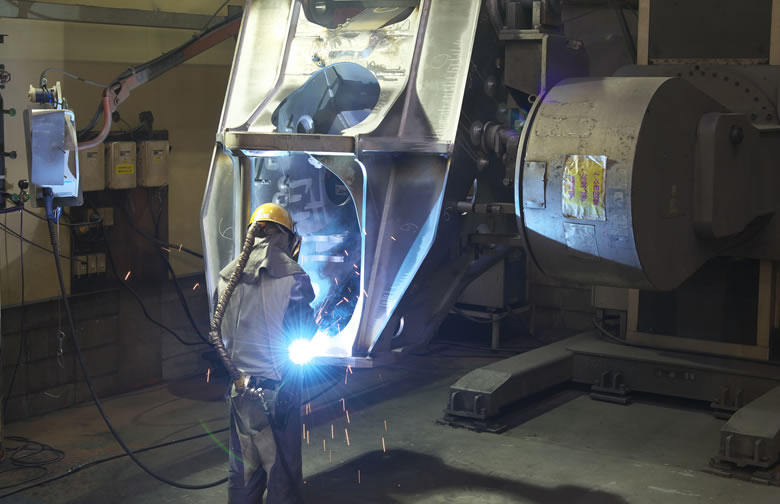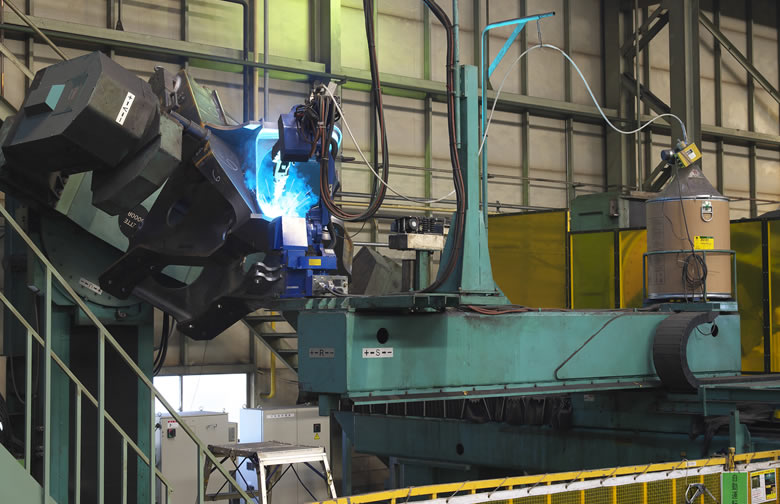 Kosugi Plant
Die machining
Major Pieces of Equipment
| Machine Name | Model | Manufacturer | Specifications | Number of Units |
| --- | --- | --- | --- | --- |
| Verticle Machining Center | FD/FDNC-128 | Makino Milling Machine | 1200×600 | 1 |
| Verticle Machining Center | 650V | ENSHU Ltd. | 1200×500 | 1 |
| Verticle Machining Center | VA-3A | MITSUI SEIKI | 900×450 | 1 |
| Machining Center (With main spindle rotation function) | 1OOOVH-APC(2)/ATC(60) | OKUMA | 1850× 1300×1000 | 1 |
| 5-Axis Machining | MU-400VA | OKUMA | φ400 | 1 |
| Universal General Purpose Milling Machine | TK-US5N-LH | Takeda Machine Tools | 1500×400 | 1 |
| NC Lathe | TMC-4 | Nakamkura-Tome Precision Industry | φ300×250 | 1 |
| Multi-Function Machine | WY100 | Nakamkura-Tome Precision Industry | φ160×500 | 1 |
| Precision Small CNC Lathe | NUCBOY-8EX | EGURO | Special Machine | 2 |
| NC Horizontal Grinding Machine | PSG305DX | Okamoto Machine Tool Works | 2500×200 | 1 |
| NC Horizontal Grinding Machine | PSG-455-BNC | Okamoto Machine Tool Works | 4200×150 | 1 |
| NC Horizontal Grinding Machine | MEISTERG3 | AMADA WASHINO | Special Machine | 1 |
| Creep Grinder | MFP-125-35 | Maegerle | 1000×350 | 1 |
| Horizontal Grinding Machine | GHL-B512N | Hitachi Seiko | 1200×500 | 2 |
| Horizontal Grinding Machine | GHL-B309N | Hitachi Seiko | 900×300 | 1 |
| Horizontal Grinding Machine | JK-105ATDⅡ | KURODA Precision Industries | 1000×500 | 1 |
| Horizontal Grinding Machine | SPG63SA | Okamoto Machine Tool Works | 600×300 | 1 |
| Horizontal Grinding Machine | SPG63DA | Okamoto Machine Tool Works | 600×300 | 1 |
| NC Cylindrical Grinding Machine | OGM-250 | Okamoto Machine Tool Works | φ150×200 | 1 |
| Wire Cutting Machine | W-500 | Sodick | 700×500 | 1 |
| Electric Discharge Machine | M-EA12M | Mitsubishi Electric | 700×500 | 1 |
| 3D-Coordinate Measuring Machine | BH-V710 | Mitutoyo | 1000×700 | 1 |
| Shape Measuring Machine | CV31OOS4 | Mitutoyo | 300×200 | 1 |
| Thermostatic Chamber | - | Nippon Hoist | 1t Crane | 1 |
| Ceiling Crane | - | HOKUTO | 2.8t to 10t | 7 |